Upcoming Events
There are fantastic re-enactment and living history events around Queensland and Australia throughout the year where QLHF members are welcome to participate in tournaments, share displays, or teach workshops. Scroll down to see the next exciting event near you.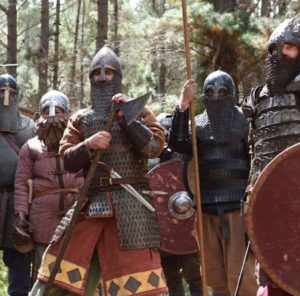 From recreations of WWII battles complete with tanks, medieval jousts and tournaments to demonstrations of ancient surgery, weaving and metalworking; living history events are exciting, colourful, and fun for re-enactors and public alike.
They are wonderful places to enjoy your passion for the past, meet old friends, and make new friends: sometimes at a sword's length! It can be a totally immersive experience whether you are dining by candlelight on venison spiced with grains of paradise after a tournament, or eating bully beef from a tin in a trench after dawn stand-to.
It is in moments like this the veil between the eras seems to slip and the past becomes alive.
History Alive, Abbey Medieval Festival, and St. Ives Medieval Faire are the biggest public re-enactment events QLHF members are involved in, but there are also smaller local events and re-enactors only immersive events held around the country. We also regularly collaborate with Fort Lytton.
For most re-enactors, public events comprise only the smallest part of the hobby: researching, training and making gear happen all year round.
QLHF provides insurance, a network and support for all of these activities.